Happy Birthday James Cameron
8/16/2017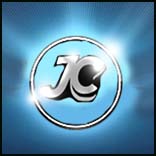 We at JamesCameronOnline.com want to wish Jim a wonderful birthday, and many more conquered mountains. Your work continues to thrill, awe and inspire generations after generations
_______________________________________________________________________________________________________________________________________________________
James Cameron interviews on ET and AP for T2 in 3D
8/12/2017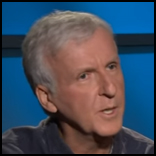 Watch new interviews conducted with Jim Cameron on Terminator 2 Judgment Day in 3D with Entertainment Tonight and Associated Press HERE and HERE
________________________________________________________________________________________________________________________________________________________
James Cameron live Facebook Q&A on T2 3D
8/10/2017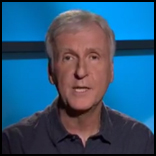 Watch the Q&A with Jim Cameron on T2 in 3D that was conducted live on Terminator 2's facebook page HERE
________________________________________________________________________________________________________________________________________________________
James Cameron Interview on T2
8/3/2017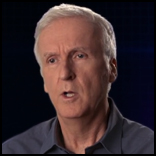 Watch the new interview with James Cameron on Terminator 2 Judgment Day and its rerelease in 3D HERE
________________________________________________________________________________________________________________________________________________________
New James Cameron Australian Interview
7/24/2017
Read the new interview with James Cameron on the Australian news.com.au website about the future of the Terminator mythology HERE
________________________________________________________________________________________________________________________________________________________
Terminator 2 3D and 4K blurays announced
7/17/2017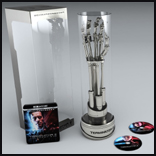 Now this is exciting Terminator fans! Zavvi, an entertainment company based in the United Kingdom and known for their lavish home video releases, has just announced what their blu-ray collector's edition for Terminator 2: Judgment Day 3D will contain! While many expected another Endoskull bust collectible, Zavvi has just announced a collector's edition containing a T-800 Endo Arm!
With a reported sale price of £124.99 ($143.20 U.S. at the current exchange rate), this collectible will contain not only just an Endoarm collectible, but four discs as well! They are reportedly a 4K, 3D, and standard Blu-Ray… as well as a CD! Could the CD be the original soundtrack for T2? Why yes, it is! There will also be a brand new documentary, plus fans will get James Cameron's fan favorite extended Special Edition as well (which means the special edition scenes were likely remastered and converted into 3D too!) This is great news for all Terminator fans!
TERMINATOR 2: ENDO ARM (4K + BLU-RAY 3D + BLU-RAY + CD) BLU-RAY
A BRAND NEW RESTORATIONJames Cameron's epic action, sci-fi masterpiece starring Schwarzenegger in his most iconic role, has been stunningly restored by Cameron himself. First hitting our screens in 1991 with ground-breaking special effects, this version will take the seminal blockbuster to the next level of effects and into the 21st century for a new generation of fans.
It has been 10 years since the events of Terminator. Sarah Connor's ordeal is only just beginning as she struggles to protect her son John, the future leader of the human resistance against the machines, from a new Terminator, sent back in time to eliminate John Connor while he's still a child.
Sarah and John don't have to face this terrifying threat alone however. The human resistance have managed to send them an ally, a warrior from the future ordered to protect John Connor at any cost.
The battle for tomorrow has begun…
Extras:
NEW – T2: Reprogramming The Terminator documentary (including exclusive interviews with Arnold Schwarzenegger, James Cameron, Edward Furlong and many more)
2 feature Commentaries; 23 members of Cast & Crew (1993)/ director James Cameron & co-author William Wisher
The making of T2 –1993
Seamless Branching of the Theatrical cut, Director's Cut and Special extended edition
2 Deleted Scenes with audio commentary
Trailers – NEW T2:3D trailer (2017) T2 theatrical trailer 'This time there are two'/ 'Same make new mission'/ Building the perfect Arnold
The release date for US will be October 3rd
from skynetsarmy
________________________________________________________________________________________________________________________________________________________
Neca Announces first ever James Cameron action figure
7/17/2017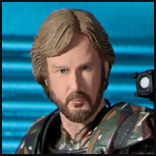 "The collectibles company NECA announced Monday that Cameron is joining the Aliens universe in the form of an action figure which finds him depicted as a colonel in the United States Colonial Marine Corps and will be released in November.

The figure is 7 inches tall, has more than 25 points of articulation, features Cameron as he appeared during the filming of the 1986 science fiction sequel, and comes with a pistol, pulse rifle, tracking device, and viewfinder. The figure's clothing is decorated with a Canadian flag shoulder patch and a Pandora planet patch as well as the logo of the "real" Cameron's company, Lightstorm. This is the first time Cameron has allowed his likeness to be used for an action figure.

In the U.S., the Cameron action figure is now available to pre-order at the NECA website and will also be sold at Toys 'R' Us stores. There are no retail restrictions internationally. Comic-Con attendees can see the action figure at the NECA booth (#3145) beginning on Preview Night."
from ew.com
________________________________________________________________________________________________________________________________________________________
A Terminator 2: Judgment Day 3D Trailer with James Cameron
6/29/2017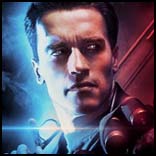 Arnold Schwarzenegger's Terminator is back — in three dimensions! James Cameron's Terminator 2: Judgment Day is returning to cinemas on Aug. 25 and the 1991 science fiction classic will be in 3-D for the first time. The conversion was overseen by Cameron himself and this new version of his mayhem-packed film, about a time-traveling cyborg (Schwarzenegger) and the young boy (Edward Furlong) he must protect, is presented by Distrib Films US.
"The 4K 3-D restoration and conversion of the film looks stunning, and after 26 years the film hasn't aged one little bit," said François Scippa-Kohn, President and Partner at Distrib Films US, in a statement.
Terminator 2 costars Linda Hamilton, Robert Patrick, Earl Boen, and Joe Morton.
Details of the Terminator 2 screenings can be found at the official website of the 3-D release.
watch the clip HERE
from ew.com
________________________________________________________________________________________________________________________________________________________
Avatar 2 to be shown in glasses-free 3D
6/28/2017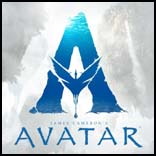 Filmmaker James Cameron, forever an advocate for the 3D format, has achieved his ambition of letting audiences watch his Avatar sequels in 3D without having to don a pair of glasses.
Last November, the director revealed his plans to further innovate the format, stating: "I'm still very bullish on 3D, but we need brighter projection, and ultimately I think it can happen - with no glasses. We'll get there."
The move will work wonders for Avatar 2, a sequel many felt a tad unnecessary considering it will arrive over ten years after the 2009 original - this 3D development will no doubt see film fans flocking to multiplexes to experience the innovation.
Inquisitr reports that Cameron's production company Lightstorm Entertainment has extended its partnership with Christie Digital granting it access to the latter's new RGB laser projection system. It will result in a clearer picture, although there is currently no word on how many cinemas will show the sequel in the format.
Until this point, glasses-free 3D has only been available on Nintendo 3DS.
Cameron's Avatar sequels are said to follow Jake (Sam Worthington) Neytiri (Zoe Saldana) and their children's "battle with humans." Cast additions have included Fear the Walking Dead star Cliff Curtis as well as Oona Chaplin (Game of Thrones, Black Mirror).
from independent.co.uk
________________________________________________________________________________________________________________________________________________________
Game of Thrones alum joins James Cameron's four Avatar sequels
6/20/2017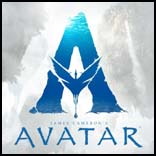 Oona Chaplin is trading Westeros for the jungles of Pandora.
Chaplin, best known for playing the ill-fated Talisa Stark on Game of Thrones, has signed on to star in James Cameron's upcoming Avatar sequels, EW has confirmed. She will play a character named Varang, who will appear in all four planned films.
The original Avatar debuted in 2009 to major box office success, and Cameron has been discussing potential sequels ever since. In April, 20th Century Fox confirmed release dates for all four sequels, with the first one scheduled to hit theaters on Dec. 18, 2020. The other three will debut on Dec. 18, 2020, Dec. 17, 2021, and Dec. 20, 2024.
Original stars Zoe Saldana, Sigourney Weaver, and Sam Worthington are all expected to return for the sequels, and last month, the cast reunited with Cameron at the unveiling of Walt Disney World's newest land: Pandora – The World of Avatar. In April, Weaver said that production on the next film is expected to begin later this year.
In addition to her role on Game of Thrones, Chaplin — who is the granddaughter of Charlie Chaplin — also starred opposite Tom Hardy in the FX series Taboo.
from ew.com
________________________________________________________________________________________________________________________________________________________
A Talk with Randall Frakes, the author of The Terminator and T2 novelizations
6/18/2017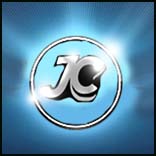 JamesCameronOnline had a pleasure to talk to Randall Frakes, a long time friend and collaborator of James Cameron, who is perhaps best known to Jim Cameron fans for writing the novelizations for the Terminator and Terminator 2: Judgment Day aka T2. He also collaborated with Cameron on many levels, from creating the sound of the Alien Queen to brainstorming on many of his movies. You can check the Q&A in our SPECIAL FEATURES section or go directly to http://www.jamescamerononline.com/randallfrakes.htm
________________________________________________________________________________________________________________________________________________________
James Cameron addresses gap between Avatar films
5/30/2017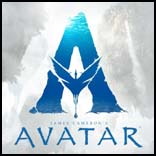 Smashing box-office records in 2009, Avatar quickly became the highest-grossing film of all time, James Cameron beating his own record-breaking Titanic. Despite the financial incentive, Cameron and the film studio will release the sequel in 2019, ten years after the original reached cinemas. As a result, there's some hesitancy regarding whether there's still longing for another Avatar outing.
Asked by CNN whether worried about the gap between the last Avatar and further Avatar-related releases — such as the upcoming Disney's Pandora theme park — Camron reminded the interviewer about the gap between other films in other series.
"It was a seven-year gap between The Terminator and Terminator 2: Judgment Day, a seven-year gap between Alien and Aliens," the famed director said before reaffirming how the prospect of another four Avatar films is unlike anything anyone has done before.
"It's going to be obviously more like a ten-year gap between Avatar and Avatar 2. But Avatar 2 you are going to with not the promise, but the certainty of three more films beyond that, and that's a very different concept with the audience. And a lot of the delay has been around creating that overall vision". Recently, the four sequels were given release dates by 20th Century Fox, starting 18 December 2020, the rest coming 17 December 2021, 20 December 2024, and 19 December 2025.
Previously talking about the project, Cameron said: "The thing is, my focus isn't on Avatar 2. My focus is on Avatar 2, 3, 4, and 5 equally. That's exactly how I'm approaching it.
from independent.co.uk
________________________________________________________________________________________________________________________________________________________
Bob Iger, James Cameron Open Pandora: World of Avatar at Walt Disney World
5/24/2017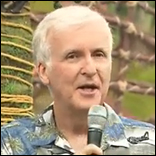 Disney Chairman and CEO Bob Iger and "Avatar" director James Cameron opened Pandora: World of Avatar at Walt Disney World Resort in Florida on Wednesday.
"This is literally a dream has come true," explained Cameron, who first conceived the world of Pandora in his sleep as a 19-year-old.
The park — the largest expansion in the history of Disney's Animal Kingdom — was inspired by that dream and the 2009 blockbuster "Avatar." It officially opens on May 27, but VIP guests were treated to a special dedication ceremony.
"At Disney we have a 'how did they do that' standard," Iger boasted while standing in front of Pandora's infamous floating mountains. "I can't think of a better example of that than what we're standing in front of right now."
Iger thanked the imagineers who conceived and executive the project, as well as the man who created the world of "Avatar" — Cameron himself.
""He does the impossible again and again and again, merging wonderful storytelling with mind-blowing technology to create experiences that no one has seen before. And 'Avatar' is definitely one of them," Iger continued.
Among the attractions in the new expansion: a first person 3D ride called Avatar Flight of Passage, a gentler ride through a bio-luminescent forest called Na'vi River Journey, and the exotic environs of the Valley of Mo'ara.
"This is the kind of emotional experience that is not only part of the brand story for our films, it's a reminder of the stunning world created in James Cameron's imagination — a world that will astonish and delight generations to come, both on screen and through immersive fan experiences like Pandora the World of Avatar." said Stacey Snider, CEO and Chairman, 20th Century Fox Film.
Many of the "Avatar" cast — including Sam Worthington, Zoe Saldana, and Sigourney Weaver — joined Iger, Cameron and Snider for the celebration.
According to Iger, "Pandora is just as great in person as it is on screen."
Check out the dedication ceremony here - https://www.youtube.com/watch?v=jJk8II7TcZI (jump to the 9:50 mark)
from variety.com
________________________________________________________________________________________________________________________________________________________
Cliff Curtis lands major role in Avatar sequels
5/9/2017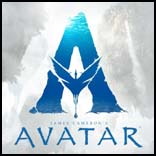 Kiwi actor and Fear The Walking Dead star Cliff Curtis will play the lead character in the next Avatar films.
Producer Jon Landau told the NZ Herald that Curtis will play the lead character in all four of James Cameron's upcoming Avatar films.
Landau said he and New Zealand-based director James Cameron were very excited.
Curtis will play Tonowari, who is the leader of the Metkayina, the reef people clan.
Curtis had hinted at the exciting news in early May. "I've actually got quite a good project coming up," Curtis told Stuff. "Which I'm not allowed to say anything about, but I'm quite excited about. They're going to work around my commitments on the TV show, so that's all good."
Production will begin next year at Wellington's Stone Street Studios, with returning cast members Zoe Saldana, Sam Worthington and Sigourney Weaver joining Curtis.
The first of the four sequels is due for release in December 2020, with the final film set to release in 2025.
The original Avatar was released in 2009 and remains the all-time box office champion with a worldwide gross of nearly NZ$4 billion. Curtis, one of New Zealand's biggest film and TV exports, has featured in some of New Zealand's most celebrated films, including The Piano, Once Were Warriors, Whale Rider and The Dark Horse.
He received the top honour Arts and Entertainment, as well as the Supreme award at the first Matariki Awards in Auckland last year.
from stuff.co.nz
________________________________________________________________________________________________________________________________________________________
New Official Terminator 2 Judgment Day 3D website has launched
5/6/2017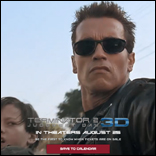 An official Terminator 2 Judgment Day 3D website has just launched today, you can see it here - http://www.terminator2-3d.com/
________________________________________________________________________________________________________________________________________________________
New Official Terminator 2 Judgment Day 3D trailer is here, reveals digital alterations
5/5/2017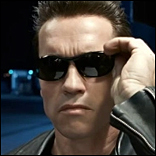 The trailer for Terminator 2: Judgment Day in 3D has been officially released, and you can see it here - https://www.youtube.com/watch?v=OnjrhlzJRwU. You can also check some of the minor digital alterations that were done on the movie here - https://skynetsarmy.wordpress.com/2017/05/05/james-cameron-wasnt-completely-forthcoming-about-altering-the-digital-effects-in-terminator-2-judgment-day-3d/
________________________________________________________________________________________________________________________________________________________
Terminator 2 Anniversary Official Trading Cards
4/26/2017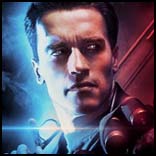 Unstoppablecards.com will be releasing brand new T2 trading card in time for the release of Terminator 2: Judgment Day in 3D. Head on to http://www.unstoppablecards.com/shop/index.php/t2-box.html
________________________________________________________________________________________________________________________________________________________
James Cameron's 'Titanic' Secrets: "It's Time I Gave My Version of What Happened"
4/24/2017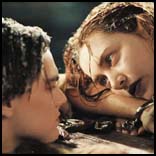 As the Oscar-winning blockbuster nears its 20th anniversary, the director looks back at the tense studio negotiations and strategic release plan in connection with a new book on the studio head who greenlit the movie.
Twenty years after he scored what, at the time, was the biggest hit in movie history with 1997's Titanic, director James Cameron for the first time reveals some of the behind-the-scenes drama behind his classic film in this letter he wrote to THR's Stephen Galloway for his new biography, Leading Lady: Sherry Lansing and the Making of a Hollywood Groundbreaker (Crown Archetype, out April 25). Here's Cameron in his own words:

Peter Chernin at Fox [then-20th Century Fox chairman] had made it clear that he wanted a partner to share the pain on a $100 million (or so we thought at the time) chick flick. I told Peter that finding a partner was his problem, I had a movie to make, so I just proceeded hell-bent toward production, and Fox continued to fund the film while they scrambled to find a partner.
In late July of '96, only a couple weeks before we were to start principal photography, and with the construction of the studio in Baja in full swing and the full-size ship set already being built, Casey Silver at Universal passed after a long dalliance. But Paramount was interested — Sherry [Lansing] had read the script and thought it was good. I was due to start photography of the present-day scenes in Halifax, Nova Scotia, in a few days, and had no time to deal with studio politics.

I had one brief call with Sherry in which she was very positive about the power of the script.

I have no idea how much Sherry had to do with all this business maneuvering. She was always the creative interface between us and Paramount, and remained highly supportive of the film.

Sherry was very complimentary about the dailies as we went along. She shared with me later that she was very excited that the raw footage captured the sweep and emotion promised by the script. I had only ever done sci-fi, horror and action previously, so this must have been a relief. However, at the same time the costs were spiraling out of control, so I remember the praise from all parties becoming more sparing as time went on — they didn't want to encourage me to sacrifice schedule for quality.
Sherry always loved the film but [when the release date loomed] the business heads at Paramount acted like they'd been diagnosed with terminal cancer — a lot of grim faces and a triage approach to releasing the movie. Everyone thought they were going to lose money, and all efforts were simply to make sure the hemorrhage was not fatal. Nobody was playing for the upside, myself included, because nobody could have imagined what was about to happen next.

In post in the late spring of '97, as we were trying desperately to complete the visual effects in time for a summer release it became increasingly clear to me that we were going to miss the July release date, and we were going to have to make major cuts and compromises in order to meet any deadline in summer. We'd had an extremely successful preview in Minneapolis that gave us our first hint that the movie transcended expectations. But the reality of getting the film done at the necessary level of visual quality was becoming almost impossible. The film was simply too long and the visual effects too unprecedented. It seemed we would miss any date in July and have to push into August, which was considered a dumping ground. And even then, there would be serious compromises to the editing, the effects and the music. Making the film shorter was taking longer. In the cutting room, the film was getting shorter by a few seconds a day — it was liking cutting a diamond. We didn't want to screw it up by hacking at it, but we were desperate to get it shorter.

We were also being pummeled relentlessly in the press, especially the industry trade papers — about epic cost overruns, set safety, delivery dates and just about everything. We were the biggest morons in Hollywood history and the press had the long knives out, sharpening them as we approached our summer release. It would have reached a crescendo of scorn just as we put the film in theaters.

I pitched the concept that the best way to deal with the negative press was to take a step back. To move away from the crescendo of ridicule and let them fall on their face. They could only sustain the negative story so long. By December it would have long ago run its course, and they'd have to come up with something new to make ink. That something might just be the fact that the film was actually good, and worth all the drama of production.

My example was the martial art of aikido, where you use the opponent's own momentum against them to take them down. The press were attacking so aggressively that the only way to throw them was to step back and let them go flying past, and fall because of their own inertia.
And it turned out that the strategy, with regard to press and the marketplace, worked perfectly. No one more surprised than myself, because nothing like it had ever been tried. But it was a strategy that revealed itself in the heat of battle — necessity was the mother of invention. And desperate times called for desperate measures.

I screened the film for Sherry on a flat-screen monitor at an Avid desk, in what is now my eight-year-old daughter's bedroom at our house in Malibu. She sat to my right and I talked her through it as I played the film reel by reel, because Avids at that time couldn't play out more than about 20 minutes of cut material. It was still in a rough state with a lot of effects missing or still in the form of videomatics or storyboards. The score was mostly temp (a lot of Enya), though a few of James Horner's memorable melodies were in, in the form of synthesizer sketches.

She had a very emotional reaction. She said she thought it was a great love story, on the order of Gone with the Wind, and it really held her throughout, despite the crude play-out.

She had a few comments, all of which were positive and insightful. I don't recall her being overly concerned about length, although there was an overall sense from everyone involved, myself as well, that it needed to be shorter. But to her the important thing was that the chemistry between Jack and Rose [Leonardo DiCaprio and Kate Winslet] worked, and the drama paid off at the end. She was a big fan of the slightly enigmatic ending, as I recall. Was old Rose still alive and dreaming of Jack, or had she died and gone to be reunited with him in Titanic heaven? We had a long talk about that.

My memory of the session was that she loved the film, and it was a big turning point for me because we were in a very bleak place emotionally, trying to finish the movie. Everyone was against us, and we knew we would always carry this huge albatross of going almost twice the proposed budget for the rest of our careers (if there even was going to be a career after that). And all of a sudden, we had a studio head saying that somehow, at some level, it had all been worth it. Mind you — nobody thought we were EVER going to break even. And I pretty much assumed at that time that I'd never work again.

[The ad campaign] was an ongoing battle. We had cut a reel in March of '97 (nine months before the release) for ShoWest that was about four minutes long. The first glimpse of the movie to be revealed to the world, coming on the heels of all the negative stories of budget and schedule overruns. The reel told a tragic love story in pictures, with music rather than words. It was very classy and artistic. Despite all the negative press swirling around the production, that ShoWest reel gave everyone pause. For ten seconds, there was a moment of silence and a grudging murmur that maybe this film wasn't a total disaster after all. Then all the negative press started again and the moment was forgotten.
Now cut to November '97 and we're trying to make TV spots to sell a 3-hour and 15-minute love story in 30 seconds. All the spots emphasized action and peril. We felt that grotesquely under-sold the movie — making it seem like a latter-day Poseidon Adventure at best. We lobbied strenuously to create more emotional spots. It was agreed to do some love-story spots and target them to female audiences (to air during daytime, on Oprah etc.).

I recall the campaign ultimately became this mixed bag of action, spectacle and romance. I think the general audience take-away was that it was a disaster movie, not a chick flick — which was probably necessary to get it open.

I was so pummeled getting the movie done that, by that time, I didn't fight too hard for anything. I remember that we ALL agreed on one thing — that the long shot of Rose and Jack clinging to each other as the vertical stern of the ship plunges down shrieking and groaning, with bodies falling hundreds of feet down toward churning water, was a slam dunk. I think that shot alone got our opening weekend audience.

We did two premieres outside of the US, where they had no jurisdiction, being only the domestic distributors. The first was in Tokyo, to open the Tokyo International Film Festival. This was to completely sidestep what we saw as a negative and biased U.S. press. So the first reviews, the first thing anyone heard about the finished film, was coming out of Tokyo and it was resoundingly positive.

Then we did a royal command performance screening in Leicester Square in London for Prince Charles (the Queen gave it a pass). And again, the waves of positive word of mouth were rolling onto American shores from afar.

So reviewers in the U.S. had to put away their prejudice and poison pens and judge the film on its own merits. This strategy was done in spite of Paramount, but fully supported by Fox, especially Tom Sherak and Jim Gianopulos (then head of international distribution). Jim G actually came to Tokyo and personally approved the installation of a new sound system and projectors at the Orchid Hall, where we premiered.

Throughout this ugly period, Sherry remained staunchly supportive of the movie, and the film had many supporters within the ranks of the Paramount's distribution and marketing team. So in the end we put out spots, trailers and ads that everyone was happy with, and we launched an effective campaign that managed to open the film to number one on its opening weekend, just edging out the Bond film [Tomorrow Never Dies] by a tiny percentage.

That was exactly the foothold in the marketplace that we needed — the platform upon which Titanic built, week over week, to stay number one for 16 weeks straight, all the way till April — a feat never accomplished before or since.
from hollywoodreporter.com
________________________________________________________________________________________________________________________________________________________
Work has begun on FOUR sequels to Avatar, James Cameron reveals dates
4/22/2017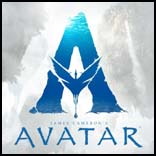 The original 2009 3D blockbuster won three Oscars for its stunning visual effects, cinematography and art direction.
In a Facebook post Cameron wrote: "Great to be working with the best team in the business!
"Avatar takes flight as we begin concurrent production on four sequels.
"The journey continues December 18, 2020, December 17, 2021, December 20, 2024 and December 19, 2025!"
He included an image of the Avatar team alongside the post on the film's official Facebook page.
The first sequel had originally been due out in 2018 but Cameron said last month that it would not be possible to make that deadline
________________________________________________________________________________________________________________________________________________________
NO ARCHIVE (SORRY WE DON'T ARCHIVE NEWS-LATEST HEADLINES ONLY)